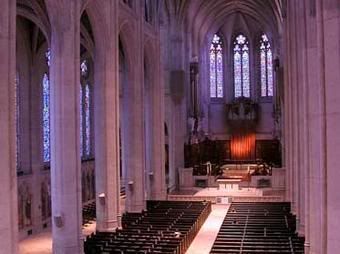 Via the SF Weekly:
"'Get Me to the Church on Time'
By Jennifer Maerz
Barn Owl's music is almost tailor-made for sacred spaces. The local duo's most recent album, The Conjurer, unfolds with meditative pacing, each guitar chord purposeful as a mantra and played against skeletal percussion. The beautiful instrumental record is meant to be evocative: of dusty, dusky landscapes in the cinematic, Western-hinting opening songs, and of landscapes both balmy and ominous as the music moves along. The Conjurer offers plenty of space — between instruments, between beats, between moods — which Evan Caminiti and Jon Porras use to coax your mind to slip inside their ruminative tunes. Reflect on their prayerful drones and dirges at a very special event tonight: One of our favorite monthly happenings, EpiscoDisco, hosts Barn Owl as its featured live act. The group performs alongside experimental- and folk-leaning Root Strata labelmates Daniel Higgs and Danny Paul Grody, whose music blooms with a similarly thoughtful intensity. (As with all EpiscoDiscos, there's a visual component as well, with work by local photographer Adam Wier.) On its own, the concept of watching performances at the historic cathedral is so uniquely San Francisco, it should not be missed. With the right combination of musician and vaulted ceilings, however, it can be close to transcendent."
We are so excited to fill this amazing space with sound.  The show begins at 7pm and ends at 10pm.  It is FREE.
Portraits/Danny Paul Grody/Barn Owl/Daniel Higgs